Big Weekend 2023
Big Weekend 2023 - our two day run out
After all of the disruption caused by Covid we finally resumed our annual weekends away, a two day run out on 22nd April 23.
5 cars convened in the car park at Vue Cinema, despite some pretty dismal weather.  Our Chair and Chief Organiser Alan brought his trusty Robin Hood,  John and Dorothy came in their Haawk, while Brian and Sharon brought their recently acquired (bargain) mini.  Mike and Denise arrived in their Robin Hood, while Liz and Arthur opted to stay dry and warm and swapped their MGF for the Skoda Fabia.   Hoping for better weather ahead we all set off for our coffee stop at Tea on The Train in Bellingham.  Alan took us on a scenic route via Morpeth, Dyke Neuk, then across to Chollerford bridge and then North to Bellingham where the coffee and cakes were a welcome relief.
Onwards then past Windermere, through Newcastleton, across to Langholm and then down to our overnight stop at the Premier Inn, Carlisle.  After a short period of R&R we all convened in the bar for a quick drink before heading in for dinner.  We became very well acquainted with our server, the duty manager and the incoming head chef as it would be fair to say the food and service we experienced had much room for improvement!.  Nevertheless, the craic was good as we discuussed the day, future runs out and even a christmas party!

Sunday morning saw everybody refreshed and refuelled (that's the people and the cars!) and ready to leave at 10.00. 
John and Dorothy chose to head directly home leaving four cars ready to journey home in the mottled sunshine.
We headed north up the A7  to Langholm, where we ventured on to more interesting ( read - potholed) twisty roads through Eskdalemuir, Ettrickbridge and into Selkirk.  As we entered Selkirk we abandoned our planned coffee stop at the waterwheel as there was an event taking place. As we drove away it became clear there was some kind of car event happening, as we were passed by a multitude of classic and muscle cars heading towards the wheel.  Nevertheless, we refuelled on the way out of Selkirk and headed south east for a coffee stop at Otterburn Mill, taking in Hawick, Bonchester Bridge, and Jedwater on the way.   After our coffee and cakes we all went our separate ways home, for most that being via Ponteland and Cramlington.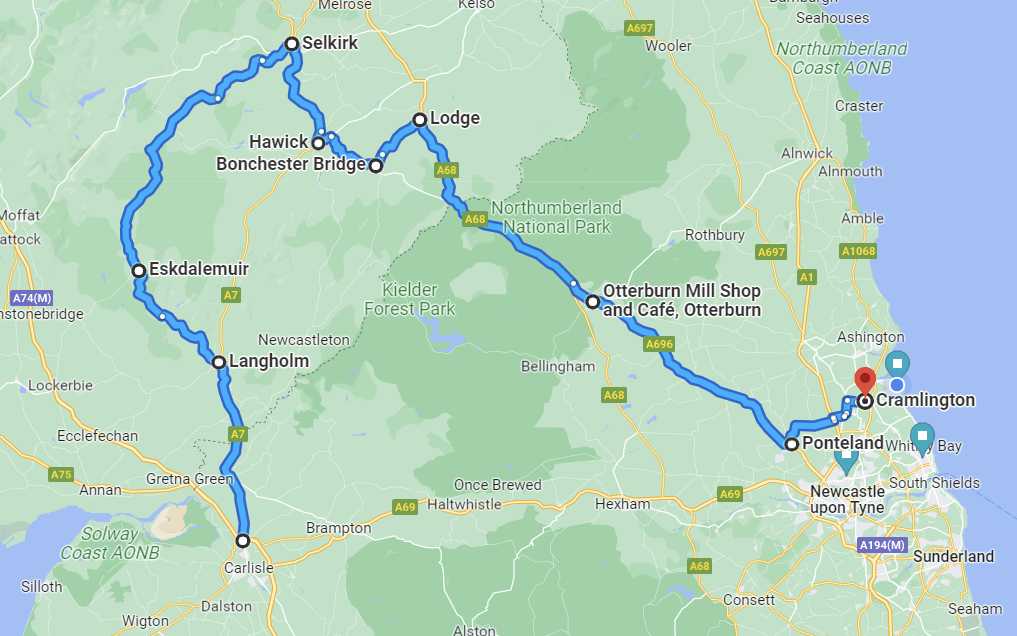 Another great weekend over we owe our thanks, once again, to Alan for arranging everything.  Looking forward to next year already.