2022 Big Weekend
North East Kit and Classic Car Club – Big Weekend 2022 - Day One
This year's big weekend had a different format to the usual.  Given the uncertainties around Covid rules during planning, it was agreed that we would have two separate days out from home rather than an "out and back" run with a hotel stay.  If rules allowed, we would arrange a meal at a local restaurant for the middle evening.  Overall, the flexibility of the new format was a success, with some members attending all events, some came for one day run out and some joined for the meal. 
Day one, Saturday 7th May 2022, began with us meeting up at the Vue Cinema Car Park in Cramlington at around 10.00.  We had six cars present: Alan in his Robin Hood, Liz and Arthur in their MGF, Keith in his Lotus, Mike and Denise in their Robin Hood, Ian and Joan and Marty the Dog in their Honda Civic, and Brian in his Lotus seven replica.   It was dry, if a bit grey, and we wrapped up well as the forecast didn't suggest we'd see much sunshine. 
Preparing for the off on Saturday
We left in convoy, shortly after 10.00 and headed for the A189 spine road, then followed the coastal route North past Woodhorn Museum and Amble, through Warkworth, Embleton, Seahouses, and Bamburgh before heading up to our most Northerly point at Morrisons in Berwick for a coffee / fuel / toilet break.   One of the cars didn't want to start after refuelling but a quick bump-start on the filling station forecourt returned everything to normal.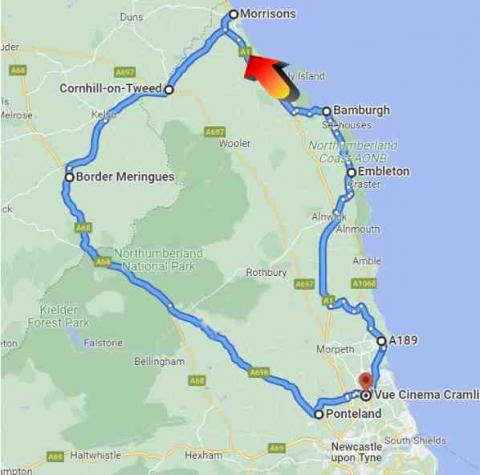 Day One Route Map
Suitably refreshed we set off again and had a smashing run, on very quiet roads heading South West for Cornhill then a brief foray into Scotland rounding Kelso before stopping in Jedburgh for a visit to Border Meringues – where the coffee and cakes were fantastic. Definitely a place we need to visit again one day. 
The final stretch of the day saw us head South down the A68 picking up the A696 at Elishaw and heading through Otterburn and Belsay into Ponteland, from where we headed to Horton Grange and back to Cramlington with folk peeling off along the way to head home.  Total round trip of around 160 miles. 
We regrouped at 19.30 for an evening meal at our new club meeting venue, the Delaval Arms at Old Hartley.   There were 19 diners   Alan with Janet and Melissa, Liz and Arthur, Keith and Sandra, Dave and Diane, Mike and Denise, John and Margaret,  Ian and Joan, Richard and Marcia along with Michael and Nickola Hudson.  We had pre-ordered our food which came promptly (was eaten with great relish) and several of us sampled the beer that the pub produces in it's own micro-brewery. 
---
North East Kit and Classic Car Club – Big Weekend 2022 - Day Two
Day two, Sunday 8th May 2022, began with us meeting up again at the Vue Cinema Car Park in Cramlington at around 10.00.  We had xxx cars present: Alan in his Robin Hood, Liz and Arthur in their MGF, Mike and Denise in their Robin Hood, Paul in his GBS Zero, Ian in his Honda Civic and Richard & Wife in his TVR along and Alec who joined us on his Triumph Bonneville.   It was dry again, and warmer than the Saturday and much brighter.  
Ready to Roll on Sunday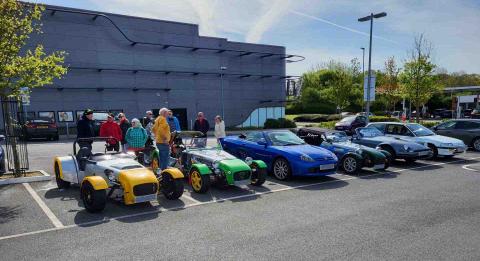 We headed from Cramlington to Ponteland, then South to Throckley picking up the A69 for Corbridge.  At Brocksbushes roundabout (as it is known in our household) we turned South on to the A68. Shortly after passing the Ministreacres Retreat Centre, we had an unscheduled stop when one of the cars suffered a fuel pump failure.  A nearby farm entrance served as a makeshift car park to avoid us blocking the road while the fuel pump was replaced with a spare and we were soon on our way again.  Turning off the A68 at Kiln Pit Hill we headed into Blanchland where we had a further stop to reset the navigation equipment (and some took advantage of the village facilities) before heading off again.  We reached Stanhope and then headed west through Eastgate, Westgate and Daddry Shield (what a name for a place!) and then turned North at Cowshill for Allendale and Hexham via Sparty Lea (what is it with Durham and place names?).  We stopped in Hexham for a coffee / fuel break and some headed straight home from there.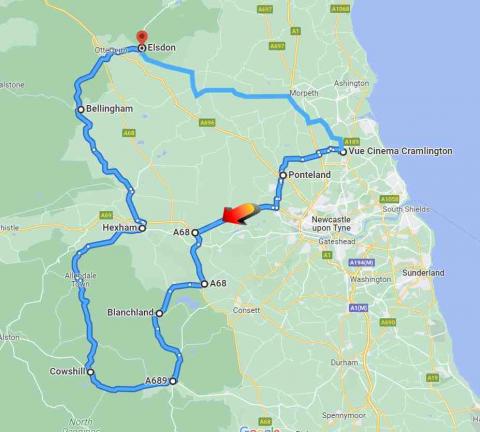 Sunday Route Map
The remaining cars headed North to Bellingham then West to Otterburn and Elsdon before heading South West through Cambo, Scots Gap and Morpeth before returning to Cramlington or Home.  Total round trip of around 130 Miles, nearly 300 for both days. 
A great day / weekend out and we look forward to the Big Weekend 2023.